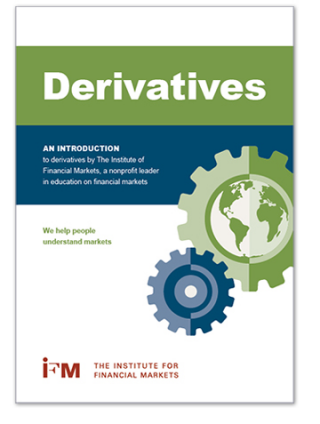 Derivatives: An Introduction to Futures, Options and Swaps Markets
Details
COMING SOON, OUR NEWEST PUBLICATION!
Derivative markets have become a central contributor to the stability of the global financial system and are vital to the functioning of the real economy.  IFM's monograph provides a high-level overview of these markets and exchange-traded futures, options and swaps, which includes commodities, bonds, foreign exchange, real estate, and other asset classes. The IFM's guide explains market functions, essential features of contracts and trading, and important developments within the industry's regulatory framework. 
What's Inside?
Whether you are a potential investor, a policy maker or a member of the media, or a financial professional seeking to expand your derivatives product knowledge, this booklet brings the markets to life. You will learn how and why these markets function and the critical risk-management role derivatives play in the global economy.   Coverage includes:
Origins and Purpose of the Derivatives Markets
Derivative Contracts: Futures, Options, Swaps and Security Futures
Market Institutions: Exchanges, Clearinghouses, Swap Execution Facilities, Swaps Data Repositories
Professionals and Participants: Brokers, Pools, Trading Advisors and more
Hedging and Speculation
Regulation of U.S. Derivatives Markets: Government and Self-Regulatory Agencies

Commodity Futures Modernization Act (CFMA) of 2000
Dodd-Frank Wall Street Reform and Consumer Protection Act of 2010
Amendments to the Commodity Exchange Act
MiFiD II and MiFIR

Derivatives After the Global Financial Crisis
The guide also includes a glossary of definitions and industry jargon as a reference.
---
Purchase Options
Cost

$ 18.00

Note

Free standard shipping in U.S.
---