NFA Series 3 Exam Standard Study Set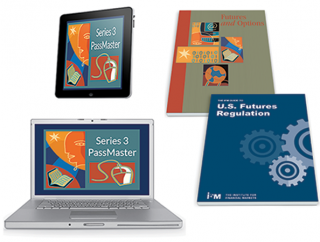 NFA Series 3 Exam Standard Study Set
Details
The IFM's self-study set blends both traditional and e-learning to enhance your comprehension and retention of theory, concepts and calculations. Plus the books included in the set will become a professional desk reference set, once you pass the National Commodities Futures Exam - Series 3 Exam. 
What's Inside
The Standard Set is the most popular and includes everything you need to prepare yourself to pass the Series 3 Exam. This set is widely used by global financial firms to prepare industry professionals, as well as by U.S. regulators to educate their enforcement and audit staff. The set includes:
          The IFM's unique Web-tutorial and unlimited exam simulator. Try our PassMaster for free.
---
Purchase Options
Cost

$209

Note

Plus shipping and handling for the U.S. & U.K. calculated online at check-out.
For international orders (non-US), please contact us via email info@theIFM.org or telephone 1-202-223-1528, so that we may confirm your shipping details and quote you the price.
---