Guide to U.S. Futures Regulation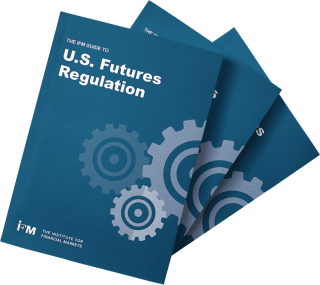 Guide to U.S. Futures Regulation
Details
IFM's Guide to U.S. Futures Regulation uses a clear and practical approach to explain the application of derivatives regulations.
It covers the U.S. regulatory structure and summarizes the rules and professional conduct requirements and is a preeminent text and desk reference for market participants, professionals, regulators and public policy makers. The text includes comprehensive discussions of the Commodity Exchange Act, the Dodd-Frank Wall Street Reform and Consumer Protection Act, and relevant National Futures Association (NFA) and Commodity Futures Trading Commission (CFTC) rule changes.
The Guide prepares candidates for the Regulatory portion (Part 2) of the Series 3 proficiency exam (the National Commodity Futures Examination), along with the updated companion book, Futures & Options.
It also is the perfect way to study for the NFA Series 32 exam — the Limited Futures Examination-Regulations. (For clarification, is the same as Regulatory part of the Series 3 Exam.) The Series 32 exam is available to individuals currently registered in qualified non-U.S. jurisdictions, such as Canada and the U.K., to demonstrate their proficiency to U.S. regulators.
What's Inside?
The text contains sections that cover CFTC and NFA regulatory programs and includes issues related to futures commission merchants, managed funds, commodity pool operators and commodity trading advisors. Major subject areas include:
Registration and membership requirements
Account opening requirements
Position reporting requirements
CFTC and Exchange position limits requirements
Disclosure Statements
Net capital requirements
Financial reports
Client reporting
Arbitration procedures
NFA disciplinary procedures
Commodity Exchange Act Enforcement
Dodd-Frank Act Amendments
This content organization enables you to use the book as both a concise, macro-picture of the derivatives regulations, as well as a quick-reference guide to specific rules and regulations.
The easy-to-read text includes more than 300 regulatory questions with detailed commentary to test your knowledge and comprehension of the content and help to reinforce learning and retention.
Guide to U.S. Futures Regulation: 978-0-692-14144-1
---
Purchase Options
Cost

$70

Note

Plus shipping and handling for the U.S. & U.K. calculated online at check-out.
For international orders (non-US), please contact us via email info@theIFM.org or telephone 1-202-223-1528, so that we may confirm your shipping details and quote you the price.
---